Keywords: pregnancy and chiropractic care, holistic pregnancy chiropractor in Lake Hallie Chippewa Falls
Supporting Expecting Families Through a Healthy Birth
Bottom Line:
With all of the advancements in medical science, it may come as a surprise to you to learn that mother nature may very well know best when it comes to supporting a successful delivery for expecting mothers.
But when you think about it, maybe not.
After all, a woman's body is designed to support and nourish a baby, the natural delivery process is relatively simple, and it's been going on for hundreds of thousands of years!
So, what do you need to know as an expecting mother or member of an expecting family?
Read on.
Why it Matters:
In order to keep labor and birth as safe as possible, and to minimize the risk of complications, it is essential to respect the simple, natural, physiologic process of delivery.
That's something our team knows all too well, and a big reason pregnancy and chiropractic care are suited for one another.
The use of intravenous lines, continuous monitoring, and restricted movement can increase a woman's overall stress levels which, in turn, can potentially interfere with the natural birthing process.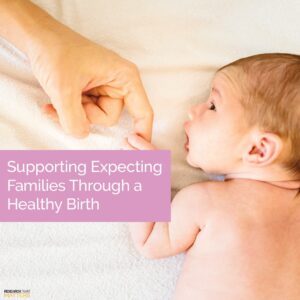 In other words, there are other ways to support an optimal delivery.
The World Health Organization recommends four best care practices to support a healthy birth.
Here's a brief overview…
The WHO recommends letting labor begin on its own, as inducing labor can increase the risk of complications.
Next, the WHO recommends women move and change positions throughout labor to help it progress and potentially shorten the amount of time spent in labor.
The WHO also recommends bringing in a loved one or doula for support to help both improve the birth experience and potentially reduce the likelihood of C-section.
Finally, the WHO recommends avoiding interventions that aren't necessary such as continuous electronic monitoring which hasn't been shown to provide better outcomes for the baby and may increase the risk of C-section.
Next Steps:
Having a child is a special time for an expecting family, and no decisions should be taken lightly.
It's essential to understand and respect our body's natural ability to navigate the process.
And if you've been looking for a holistic pregnancy chiropractor in Lake Hallie Chippewa Falls, know that our team is here to empower our patients and their families to create the birth experience that makes sense for them.
We're proud to work with midwives, doulas, and OB-GYNs in this community to help those of you navigating pregnancy do just that through education, adjustments, massage, and more!
Pregnancy and chiropractic care go hand in hand, and our supportive team would be honored to be a part of your wellness team.
Science Source:
Safe, Healthy Birth. What Every Pregnant Woman Needs to Know. J Perinat Educ. 2009.