Keywords: when to have back surgery, non-invasive back pain treatment in Chippewa Falls / Lake Hallie
When to Have Back Surgery and When to See a Chiropractor Instead

Bottom Line:
Many people think that surgery is the ultimate once-and-for-all "fix" for a problem area of their spine that has been injured.
They may believe that the answer to the question of when to have back surgery is if they've been living with it for more than a month or so.
And while in a very small percentage of back pain cases surgery has reportedly provided some level of relief…
It's also true that the permanent changes that surgery makes to your anatomy can cause a host of new problems to appear, and that's in addition to the inherent risks that come along with such invasive procedures.
For instance, one of the conditions that may result from surgery is referred to as "adjacent segment disease," and it's the number one reason low back pain surgical patients go back for more.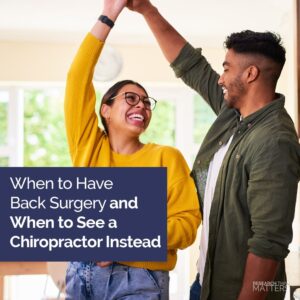 Now, odds are, surgery is not something most of us would turn to as a first or even second resort to find relief from our low back pain.
It's likely that most of our neighbors would look for non-invasive back pain treatment in Chippewa Falls / Lake Hallie before considering surgery.
But some of us with chronic low back pain (which refers to pain that has lasted for more than 3 months) may have wondered if it's something we'd have to seriously consider.
So, let's consider it together, right now.
Why it Matters:
In one recent study, researchers found that those low back pain patients with disc issues who received chiropractic care experienced the same if not more relief than patients with the same condition who underwent invasive back surgeries.
The chiropractic patients found relief without any of the risks associated with surgery.
When to Have Back Surgery
Obviously, we specialize in providing non-invasive back pain treatment in Chippewa Falls / Lake Hallie.
That said, because in this exercise we're also examining when surgery should be considered, here's another interesting finding that came out of that study…
It turns out that those individuals who didn't find "great" results with chiropractic care were actually found to be great surgical candidates.
So, wherever you fall on the spectrum of low back pain – condition, duration, etc – if you're wondering when to have back surgery, it makes sense to see a chiropractor first.
Either way, we'll get you on the path to relief.
Let's recap…
It's estimated that approximately 60% of patients with sciatica back pain who received chiropractic care benefitted to the same degree as if they had received surgery.
On that note, it's estimated that around 25% of patients who undergo back surgery may experience complications.
Research strongly suggests that low back pain patients with disc herniations should consider chiropractic care before exploring surgical interventions.
Next Steps:
We understand that having any surgery is a big decision, and that it can be difficult to know when to have back surgery and when to wait.
Between the time you'll have to spend away from work and the possibility of living with results that aren't exactly fantastic, it's smart to explore all available options.
If you've been looking for non-invasive back pain treatment in Chippewa Falls / Lake Hallie, we hope you'll think of us.
In our practice, our goal is to help you avoid unnecessary and risky medical procedures and prescription medications for pain relief and healing in favor of natural and conservative treatments that are, well, often more effective (especially in the long-term).
However, if you are one of the few people who we sincerely think may benefit from surgery, rest assured that we will let you know.
In our practice, your wellness comes first.
And our compassionate team of healthcare professionals is dedicated to providing you with the best care recommendations based on your goals and our findings.
It's how we believe healthcare should be delivered, and we're here for you.
Science Sources:
Microdiskectomy. J Manipulative Physiol Ther. 2010.
Risk of Complications in Spine Surgery. Open Orthop J. 2015.